Thread Measuring Wires
We are one of the most efficient manufacturers and suppliers of Thread Gauge. Made from high quality raw material these Thread Gauges are available in varied range to choose upon. Our gauges are used in several big companies and are in great demand across country. Our product range includes Thread Ring Gauges, Thread Caliber Gauges, Thread Plug Gauges, Precision Thread Gauges, BSP Gauges, GO and Not Go Thread Ring Gauges, GO and Not GO Plug Gauges, Unified Gauges, Screw Plug Gauges, Matric Gauges, Trap 20/ all Gauges, Stub ACME Gauges, ACME Gauges, Square Thread Gauges, Taper Thread Gauges, Special Thread Gauges, BSW Gauges, BA Gauges, BSF Gauges, PG Gauges, Left Hand Thread Plug Gauges and Left Hand Thread Ring Gauges.
---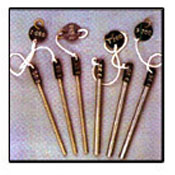 Two / Three Wire Sets
Two / Three wire thread measuring system can be used in a wide range of applications including certifying thread plug gages and set plugs and monitoring and controlling pitch diameter during thread fabrication. Thread Checks holders are precision made to predetermined thread pitches.

---